Hi!
If you are a consistent reader of my blog, you might have noticed that Fridays on my blog are dedicated to Ebay bargains I have found over the week! This week I decided to show you some of the Ebay bargains I have actually bought myself!
Firstly, because I genuinely want to show you some of my latest buys and secondly, I don't want to sound like a fraud as I am posting (might I say popularising?) all of these Ebay items every week, but some of you might think that I am never buying them myself! Of course, don't get me wrong, I didn't buy all these items to prove a point, I bought them because I wanted to try them and add them to my wardrobe! 🙂
I would also want to add- every item I post on my Ebay bargain series is found by me, I am not paid in any way to promote them. All opinions are mine.
Basically this post is a review post, I will show the original Ebay picture of the product, my pictures & my opinion of the item (both its looks and quality)
So this is what I got:
(the picture that was on Ebay)
(my picture)
Overall I am happy with this sweater- it more or less looks the same as on Ebay. The fit is quite good, considering it is available only in ONESIZE! The material feels very light weight and as I checked all the seams, the sweater seemed good quality!
Rose mesh sweater in pink– $16.30
(the picture that was on Ebay)

(my picture)


I think you instantly might see that the colors differentiate A LOT! I mean, I was supposed to receive a beige/light pink sweater. Instead I got a sweater in a pink-ish/ a bit coral color! I mean I get that a color can differentiate a bit (because of computer display settings), but I wouldn't expect that big of a change!
I was a bit bugged by the color at first, but I still like this sweater in this particular color as well, I mean, of course, it is not what I expected, but I believe I can make many lovely outfits with it as well. The quality is the same as the white sweater!
Double layer chiffon skirt in turquoise– $6.85
(the picture that was on Ebay)


(my picture)


I already had this type of skirt just in light pink color (my outfits here, here & here). As you might see, I had used the light pink skirt a lot, so, therefore, I wanted to broaden my horizons a bit with new colors, such as this skirt in turquoise blue. It was available in ONESIZE, which always concerns me, especially when buying skirts or pants, because I am relatively tall (175cm). To my relief the skirt fit! Though, of course, I wished it was a bit longer, because if there would be a breeze of wind, I might end up looking like Marilyn Monroe trying to hold the skirt down! 🙂
Double layer chiffon skirt in purple– $6.85
(the picture that was on Ebay)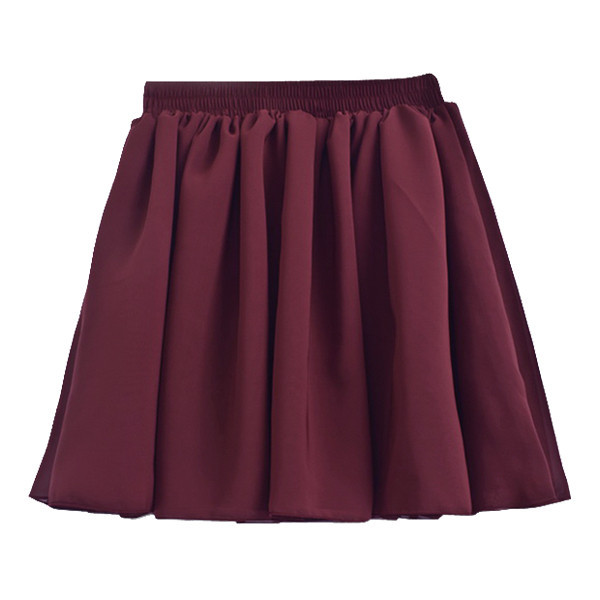 (my picture)


I like this skirt a bit more than the one in turquoise, the color looks even more pretty in real life than in pictures! The quality of the skirt is average (not good or bad either). All the seams were sewn carefully, the waist band is pretty stretchy (therefore, no problems with the fit). The negative thing might be that the material is very synthetic, therefore a bit electric!
Long sleeve deer sweater– $11.99
(the picture that was on Ebay)



(my pictures)


I received this sweater right before Christmas & I was wearing it almost every day before & after Christmas! 🙂 The sweater is another ONESIZE item (seriosly, is it that hard to make items in sizes?), of course, I was worried about that, because you never know what to expect with one size items! Fortunately the sweater fit my body quite good & it even had a bit of a oversized effect, which I think looks nice. The quality on the other hand is not that great, when my sweater arrived, one seam was broken (thanks to my mom, everything was fixed easily), but when I order an item I expect it to be in perfect condition. I mean it is common sense, right?
So, this was a quick review of the items I got from Ebay (you can see my other Ebay bargain review posts here & here)
Did you like this review? What are your thoughts on ordering items on Ebay? Willing to share your experience? 🙂