Hi!
For this weeks Ebay bargains I decided to change it up a bit and show you some watches ( spoiler alert one necklace as well), that I bought last month! I had scheduled this post a bit later, but as the delivery was relatively fast ( I think I received the last item on 21st day after buying it). It usually takes more than a month for the items to arrived, therefore, I was pleasantly surprised! Watches are probably my favorite thing to order on Ebay as they are extremely cheap ( the most expensive watch in this review was a bit over $3!). I know I have done a Geneva silicone watch review before, but I wanted to review them again as 1) there are new readers to my blog that might not dig that deep in the archives of my blog and 2) because after using both color watches for a year they stopped working- that's why I wanted to do a little update!
LV
Šīsnedēļas Ebay bargains rakstu esmu iecerējusi nedaudz savādāku, nevis ar ierastajiem produktiem, kurus vari atrast par izdevīgu cenu Ebay'ā kolāžas veidā, bet gan nelielu atsauksmju rakstu par dažiem pulksteņiem ( un bonusā arī par vienu kaklarotu), kurus pasūtīju pagājušajā mēnesī! Es biju ieplānojusi šo rakstu rakstīt nedaudz vēlāk, jo nebiju plānojusi, ka visas pasūtītās lietas tik ātri atnāks- parasti sanāk gaidīt vismaz mēnesi pēc pasūtīšanas brīža, bet šoreiz pēdējā lieta no tām kuras nopirku atnāca 21. dienā! Pulksteņi pavisam noteikti ir mana mīļākā lieta ko var iegādāties Ebay, jo tie ir tik lēti ( dārgākais pulkstenis maksāja nedaudz virs 3 dolāriem!) un arī par salīdzinoši labu kvalitāti. Geneva silikona pulksteņu atsauksmju rakstu biju publicējusi kādu laiku atpakaļ, bet es izlēmu vēlreiz par viņiem Jums pastāstīt, tāpēc ka 1) manam blogam ir daudz jaunu lasītāju, kas iespējams neraksies tik dziļi mana bloga arhīvos, kā arī 2) tāpēc ka abus pulksteņus ( gan baltu, gan melnu) lietoju jau apmēram gadu un nesen tie apstājās, tāpēc vēlējos uzrakstīt nelielu "updeitu"!
The picture that was on Ebay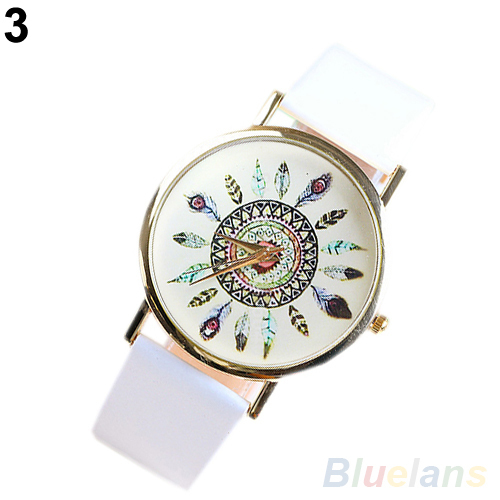 My pictures
You might recall this watch from
Friday Ebay bargains post #40
and then I already talked about how much I wanted to get this watch. And as I was ordering my silicone watches I saw this watch and remembered that I wanted to get it as well! The only difference I could spot was that the colors of feathers weren't as vivid and contrast as in pictures! Otherwise the watch is pretty great and I am really satisfied with it!
Iespējams Tu atminies šo pulksteni no Friday Ebay bargains post #40, kurā jau apjūsmoju šo etniski tematisko pulksteni! Tā kā Jūnijā man izkrita no prāta to pasūtīt, pasūtot silikona pulksteņus ieraudzīju arī šo un pievienoju savam Ebay groziņam! Vienīgā atšķirība ko varēju pamanīt, bij tas, ka zīmējums ciparnīcā nebija tik košs kā oriģinālajās Ebay bildēs. Bet neskatoties uz to esmu ļoti apmierināta ar šo pulksteni un neizskatās, ka tas kuru katru mirkli saplīsīs! 😉
The pictures that were on Ebay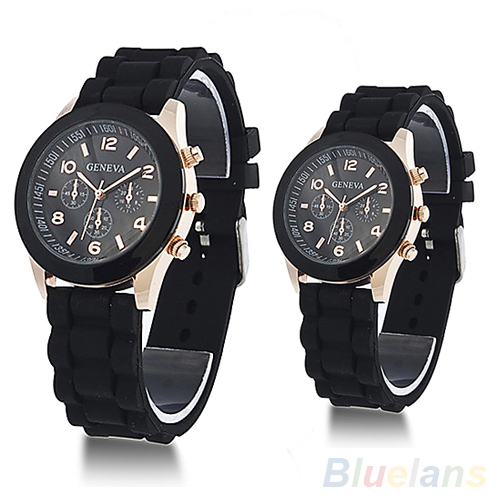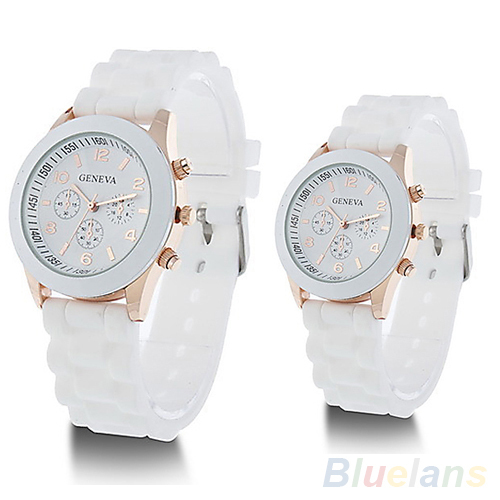 My pictures
As I said in the start of this post, this is the second time I am ordering Geneva silicone watches in black and white color! The previous watches served me for almost one year, which I think is a big accomplishment for a watch that you can buy on Ebay for 2 dollars! I expected that they would break after a week, so the fact that they were in working order for such a long time really surprised me! That's why I decided to order both color watches again as they were a perfect accessory to my daily outfits ( I think I am wearing a Geneva silicone watch in almost every
outfit post
:D)
Kā jau raksta sākumā minēju, šī ir otrā reize, kad pasūtu Geneva silikona pulksteņus baltā un melnā krāsā. Iepriekšējie pulksteņi man kalpoja apmēram vienu gadu, kas, manuprāt, ir liels sasniegums pulkstenim kuru ir iespējams nopirkt par diviem dolāriem! Man likās, ka tie salūzīs jau pēc nedēļas, tāpēc mani patīkami izbrīnīja tas, ka šie pulksteņi gāja tik ilgi! Tieši tāpēc es nolēmu tos pasūtīt vēlreiz, jo tie ir patiešām lieliski aksesuāri jebkādam tērpam ( man liekas, ka es gandrīz katrā savā outfitā, kuru esmu publicējusi šajā blogā esmu lietojusi šo pulksteni kā aksesuāru 😀 )
The picture that was on Ebay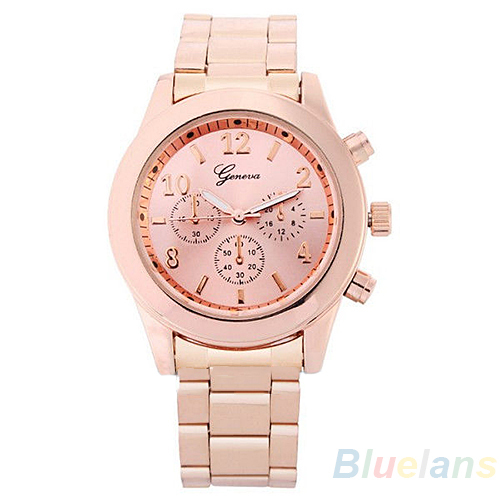 My pictures
Rose gold is definitely my second favorite metal color after silver, therefore, as I have been using this watch in my previous Ebay bargains posts, I decided to order it as it looked super pretty in the picture! Even though, the watch is very pretty itself you can see that there is a difference between the watch in the Ebay picture and in reality! That wouldn't have bugged me that much ( because the watch is still very pretty), but what bugged me a bit that the watch is a bit too big for my wrist! It is a bit my fault as I didn't read the full description of the item ( the length was written there), but I didn't do that because my previous experience with watches was really positive!
Zelts ar rozā pārklājumu ir mana mīļākā metāliskā krāsa pēc sudraba, tāpēc, tā kā šo pulksteni biju jau pieminējusi citos Ebay bargains rakstos, es nolēmu pasūtīt šo pulksteni, jo, manuprāt, tas izskatās tik skaists bildē! Manuprāt, var ļoti labi redzēt, ka bildē Ebay'ā un realitātē šis pulkstenis atšķiras ( tieši krāsas ziņā). Tas mani varbūt tik ļoti neietekmētu, kā tas, ka šis pulkstenis ir nedaudz pa lielu mani delnai un visu laiku slīd nost! Tā lielākoties ir mana vaina, jo pasūtot pulksteni es līdz galam neizlasīju produkta aprakstu ( to daļu par pulksteņa garumu), bet es to visticamāk nedarīju ieraduma pēc, jo līdz šim visi pulksteņi ir man labi derējuši!
The picture that was on Ebay

My pictures:
And the last item I received at post office was this beautiful maple leaf necklace. I talked about it on my
Friday Ebay bargains #54
post ( less than a month ago) and a lot of you seemed to like this necklace, including me! That's why I didn't even hesitate for a second and ordered it! And what's not to like about it? The price is amazing only $2.32, the quality is decent and it looks practically the same as in the picture ( if not even better). Super satisfied with this deal!
Un pēdējā lieta, ko saņēmu pastā bija šī skaistā kļavu lapu kaklarota. Iepriekš Jūs jau to redzējāt Friday Ebay bargains #54 rakstā ( nedaudz mazāk kā mēnesi atpakaļ) un daudziem no Jums tā iepatikās, ieskaitot mani! 🙂 Tāpēc es ne uz mirkli nešaubījos un pasūtīju kaklarotu par izcili zemu cenu ( tikai 2.32 dolāriem) un saņēmu kaklarotu, kas dzīvē izskatās vēl skaistāk nekā bildēs! Esmu ļoti apmierināta ar šo darījumu!
Did you like this review? What are your thoughts on ordering items on Ebay? Willing to share your experience? 🙂
If you are new to Ebay ( don't know how to register, use paypal etc), you can look at my guide
HERE
!