Who doesn't like playing with different colours and experimenting with their hairstyle from time to time, right? Well, in today's article I'll be introducing you to my summer's hottest hair product and surely a very cool item called the
Schwarzkopf Professional BlondMe Instant Blush
. I have this product in the the gorgeous mermaid green jade shade, but all together in this collection you can find 4 different, beautiful pastel shades starting from shades called Ice, Steel Blue, Strawberry and my already mentioned Jade. Below you can see colours of all four shades. I think that these Instant blushes are a total hit and they allow me to play with my hair in such a cool and playful manner. Believe me – I am so impressed! As of right now I only have the Jade shade, but I am totally thinking of acquiring the rest shades, and who knows? Maybe by the end of summer I'll have rainbow hair, hehe 🙂
I did find a link on Amazon in which you can buy the Instant Blush – take a look
HERE
LV
Kurai gan no mums nepatīk paspēlēties ar dažādām krāsām un paeksperimentēt ar savu frizūru laiku pa laikam, vai ne? Šodienas rakstā pastāstīšu jums par manu jaunāko vasaras atradumu un īstu "hītu", ja tā var teikt, jeb par Schwarzkopf Profesional BlondMe Instant Blush izsmidzināmo matu krāsu burvīgā, nāriņas cienīgā nefrīta tonī. Kopumā kolekcijā ir pieejamas četri pasteļkrāsas toņi: ledus, zemeņu sārtais, tēraudzilais un nefrīts. Skaties bildi zemāk ar visiem toņiem. Manuprāt, šīs izsmidzināmās matu krāsas ir vienreizējas un ļauj man paspēlēties ar saviem matiem neierastā un tiešām rotaļīgi foršā manierē. Ticiet man – es esmu sajūsmā! 🙂 Pašlaik manā rīcībā ir tieši nefrīta zaļais tonis, bet es noteikti došos uz kādu frizieru veikalu, lai nopirktu arī pārējos toņus.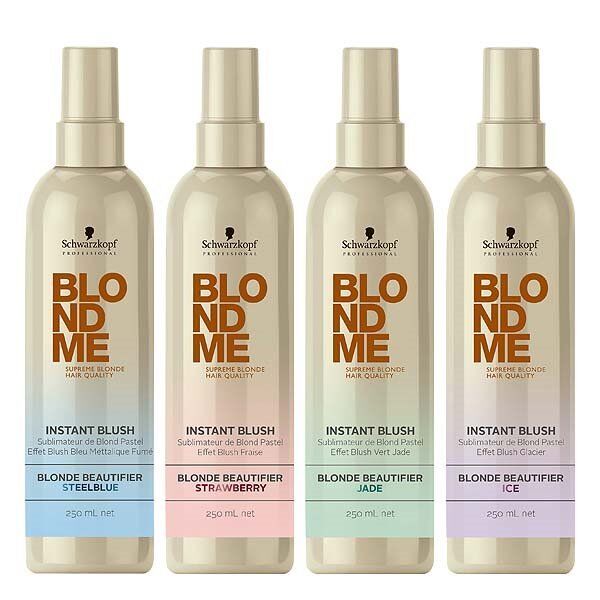 +++
You can temporarily colour your hair in a beautiful pastel shade (it is said on the packaging that the colour will last up to three washing times)
The product also consists of vitamin complex, which balances and straightens the hair
It is super easy to use and it doesn't take much time to acquire the effect (around 10 minutes)
It has a really lovely scent
In the packaging you'll also find a glove, which will prevent colouring your hand
—
This product is only meant for blondes
Even though, one of the ingredients is the vitamin complex, my hair ends did feel a bit more dry than usual after using the Instant Blush
If you do not use this product carefully there is a chance that you might colour your clothes or furniture (I strongly suggest to use it in the shower)
+++
Iespēja īslaicīgi nokrāsot matus kādā no skaistajiem pasteļtoņiem (noturība ir līdz pat trīs matu mazgāšanas reizēm)
Produkta sastāvā ir Kera vitamīnu komplekss, kas padara matus spīdīgus un veselīgus
Iespēja mājas apstākļos, pavisam vienkāršā veidā (~10 min. laikā) iegūt vēlamo rezultātu
Patīkama smarža
Komplektā ir arī cimdiņš, lai nesasmērētu rokas
—
Matus īslaicīgi nokrāsot varēs tikai blondu matu īpašnieces
Lai arī sastāvā ir Kera vitamīnu komplekss, novēroju to, ka mani matu gali kļuva nedaudz sausāki
Neuzmanīgi lietojot produktu iespējams sasmērēt drēbes un mēbeles (ieteicams produktu uzklāt dušā)
Nopērkami tikai profesionālajos frizieru veikalos
If you have blond hair and this summer you want to try out something new and colorful, I surely suggest trying one of the Instant Blush'es, because as I previously said – I am very satisfied with mine and I am very happy about the fact that it only takes about ten minutes to completely change my look. Plus imagine how great coloured hair would like in music festivals! Recommend!
Ja Tev ir blondi mati un šovasar vēlies izmēģināt kaut ko jaunu un krāsainu, es pavisam noteikti iesaku iegādāties kādu no Instant Blush produktiem, jo kā jau minēju, es esmu ļoti, ļoti apmierināta un priecājos, ka tik vienkāršā veidā ir iespējams paspēlēties ar savu izskatu. Plus, iedomājies cik skaisti un interesanti pasteļkrāsas mati izskatīsies mūzikas festivālos! Iesaku!
Schwarzkopf Professional Latvia – INSTAGRAM | FACEBOOK